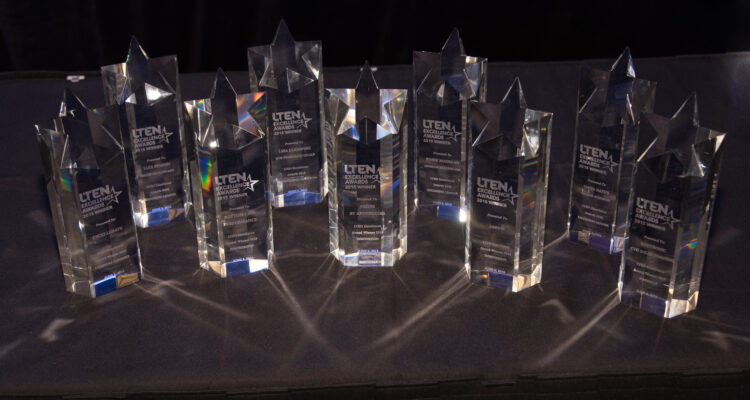 Roanoke, VA, May 5, 2020 – Finalists have been announced for the 6th Annual LTEN Excellence Awards, a national competition that recognizes the innovative and inspiring work of life sciences training professionals. The LTEN Excellence Award winners will be announced live at a June 9 ceremony during the LTEN Connect Virtual Learning Forum.
The awards are presented and sponsored by the Life Sciences Trainers & Educators Network (LTEN), the world's largest professional association of life sciences trainers and educators. The LTEN Excellence Awards honors life sciences training professionals in eight categories, including a new category, Non-Commercial Training Efficiency, which recognizes excellence in non-commercial/GxP training.
Awards are presented to both primary market ("practitioners") and training supplier ("providers") companies and professionals. LTEN Members of the Year in both categories are chosen by the LTEN Board of Directors. A panel of life sciences training leaders serves as judges for the competitive categories.
"While we won't be gathering for the live LTEN Annual Conference this year, we're still committed to recognizing and honoring the LTEN members and training industry leaders who so richly deserve it," said Dawn Brehm, executive director of LTEN. "We look forward to our virtual awards ceremony at the LTEN Connect event, where we'll also be honoring our LTEN Hall of Fame inductees and recognizing the winners of our first field training scholarships for LTEN events."
The finalists for the 6th Annual LTEN Excellence Awards are:
Practitioners All-Star Teams:
Abbott EP Education, Abbott
Amgen Global Learning & Performance Team, Amgen
The Americas' Commercial Training Team, Baxter International
Novartis Market Access and Patient Specialty Services, Novartis
SK Training Team, SK Life Science, Inc.
The Sysmex Center for Learning, Sysmex America
Practitioners Emerging Leaders:
Jerad Abbott, AbbVie
Richard "Brad" Rzendzian, Janssen Pharmaceutical Companies of Johnson & Johnson
Amanda Harris, Johnson & Johnson Medical Device
Andria Cox, Sanofi
Tiffani Higgins, Teva Pharmaceuticals
Practitioners Innovation:
Gilbert Marchany III, AbbVie
John Broadwell, Biohaven
Tara Leahy, Daiichi-Sankyo & Vernon Watt, AstraZeneca (co-finalists)
Lauren Griffey, Jazz Pharmaceuticals
Katrina Church, Merz North America
Sarah Pinson, UCB
Inaugural Practitioners Non-Commercial Training Efficiency:
Kelly Rebmann, Sanofi Pasteur
Practitioners Training for Change:
Barbara Pattullo, Genentech
Missy Lay, Grifols
Nancy Quast, Christine Rivero, Heather Duncan, and Deb Topka, Sandoz
Terah Benjamin, Takeda Pharmaceuticals
Commercial Training & Development Team, Teva Pharmaceuticals
Field Trainer Scholarship Winners:
Julie Fassel, AstraZeneca
Rosa Hanks, Cooper Surgical
Providers Industry Partnership:
ACTO with Axiom and AstraZeneca
IC Axon, a Division of GP Strategies with Novartis
Proficient Learning with Chiesi USA
Scrimmage with Sunovion Pharmaceuticals Inc.
Unboxed Training & Technology with GlaxoSmithKline
Providers Innovation:
AdMed
CMR Institute
Matrix Achievement
Scrimmage
ScienceMedia
Providers Learning Content:
Axiom
IC Axon, a Division of GP Strategies
Illuminate
Maestro
Tipping Point Media
For more information on the LTEN Excellence Awards and to view past winners, visit www.LTENconference.com.