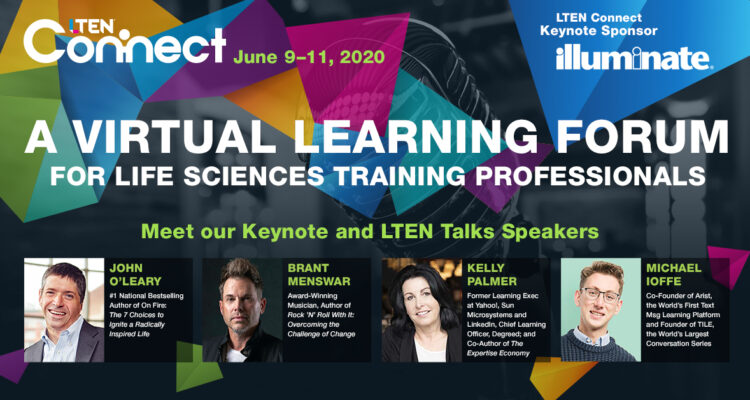 This year's first-ever virtual gathering of life sciences training professionals, LTEN Connect (www.LTENconnect.com) will feature keynotes from John O'Leary, bestselling author and speaker, and Brant Menswar, critically-acclaimed musician and author. The live event will run from June 9 through 11, 2020 from 11 a.m. until 2:30 p.m. Eastern time.
"We are beyond excited to have these incredible thought leaders at the LTEN Connect virtual learning forum," said LTEN Executive Director Dawn Brehm. "The variety and scope of their experience is certain to inspire each of us to live deeper, maximize success and become transformative 'value-based leaders.' "
O'Leary will speak on Tuesday, June 9, as the opening keynote. O'Leary's life is proof of the power of the human spirit. As a 9-year-old boy, he was burned on 100 percent of his body and given less than 1 percent chance of surviving the first night. He endured months in the hospital, years in therapy, dozens of surgeries and lost all of his fingers to amputation. His career as an international speaker began with his parents' book, Overwhelming Odds, which helped O'Leary embrace his past, rise above his fears and share his message with others.
Menwar will give the closing keynote on Thursday, June 11. Menswar is also CEO and founder of Rock Star Impact, which teaches people and organizations how to cultivate values-based leadership and bring organizational values to life. With his authentic rock star swagger and his incredible story of hope, creativity and determination, Menswar will challenge LTEN members to become values-based leaders, empowered to choose their purpose and inspired to change what's possible.
Thursday will also feature an LTEN Talk from Kelly Palmer, former learning executive at Yahoo!, Sun Microsystems and LinkedIn as well as current Chief Learning Officer at Degreed, co-author of The Expertise Economy. Palmer's talk, "The Future of Learning in a Post-COVID-19 World" will be followed by Michael Ioffe, co-founder of the text message learning platform Arist, and creator of the conversation series TILE.org. Ioffee's LTEN Talk is entitled, "From War Zones to Boardrooms: the Past, Present, and Future of Nanolearning". The event will end with a panel discussion, "Learning Leaders Unmasked – Insights from 2020." LTEN senior learning leaders will share their perspectives on L&D and leadership in a time of rapid change and extraordinary circumstances.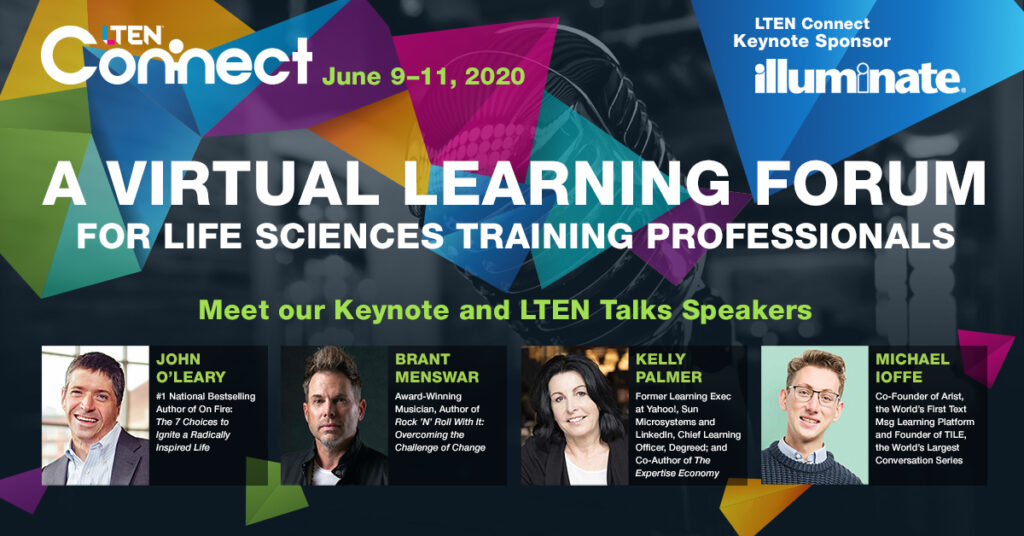 In addition to the powerful guest speakers, this year's new virtual learning experience will feature interactive networking tools such as person 1:1 messaging, global group messages, video chat in exhibit hall booths, in-session chat and meeting request tool. Guest will be able to listen in on pre-recorded Learning Labs, learn about LTEN Excellence Award entries via poster presentations, sit in on our live award ceremony on Wednesday, and meet dozens of world-class training solution providers in the virtual Learning Village Exhibit Hall. Learn more and register at www.LTENconnect.com.
###
ABOUT LTEN
The Life Sciences Trainers & Educators Network (www.L-TEN.org) is the only global 501(c)(3) nonprofit organization specializing in meeting the needs of life sciences learning professionals. LTEN shares the knowledge of industry leaders, provides insight into new technologies, offers innovative solutions and communities of practice that grow careers and organizational capabilities. Founded in 1971, LTEN has grown to more than 2,100 individual members who work in pharmaceutical, biotech, medical device and diagnostic companies, and industry partners who support the life sciences training departments.
MEDIA CONTACT
For more information contact Nannette Nolan, LTEN director of marketing communications, at nnolan@L-TEN.org.