Calling All LTEN Excellence Awards Participants!
LTEN is pleased to offer Excellence Award applicants the opportunity to display a poster presentation at the LTEN Connect virtual learning forum, June 9-11, 2020.
Posters will be displayed in the virtual Poster Presentations area of the LTEN Connect platform for all attendees to view, providing a distinct venue to gain visibility for your organization.
Questions? Email our team at awards@L-TEN.org.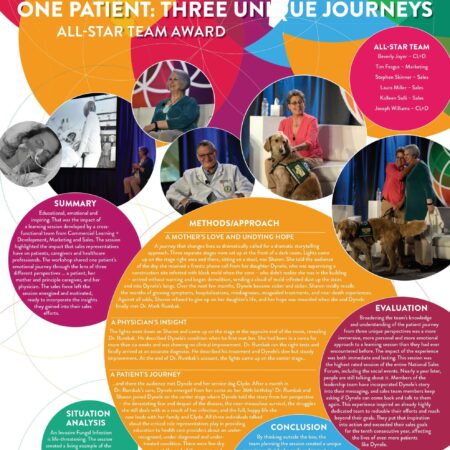 What Should the Poster Include?
Your poster should take a viewer through the information you submitted as part of your award application, highlighting your achievements. Unlike a verbal presentation, however, where the pace is dictated to the audience, posters allow viewers to study the information at their own speed.
View last year's poster presentations here.
A well-organized, visually appealing poster takes thought, and the following guidelines are meant to help you produce a poster that effectively communicates your topic and appeals to the training audience. With little space to explain your ideas, it's important to communicate key points clearly and succinctly.
Summary
Similar to an abstract in a scientific-based poster, the summary section is intended to provide a top-line overview of the information contained in the poster. It should include the most important points from each of the subsequent poster sessions such as, background to the topic or issue, learning objectives, relevant data and/or approach and conclusions.
If the viewer does not have time to read the entire contents of your poster, they should walk away with clarity on your topic after reading this section.
Situation Analysis
This is the background or big picture summary that will set the stage for viewers. It's where you define the current state of a topic, the problem and the need for a change, new approach or solution. The situation analysis does not need to be lengthy; it just needs to provide enough information for the rest of the poster to flow and make sense.
The award application section of Needs Identification can be covered here.
Methods/Approach
This area will contain the bulk of your information and allow for the most creativity and interpretation. Research-based presentations would present the methodology here, but more likely you will use this space as a general discussion of your topic. What concept are you trying to get across? What new idea are you proposing? What challenges are important to overcome? Or, if it's an educational session (e.g. based on current industry trends), focus on both the content you are supplying and the justification for trainers to need that information. Posters will vary in style, approach and objectives, so use your best judgment in making this section content-rich and persuasive with clearly defined information points. Sales savvy will come into play; your goal is to have viewers reach that "aha" moment.
The award sections of Design Approach and Alignment will be highlighted in this section.
Evaluation
If there are concrete results from a case study or research initiative, then these should be communicated here. If that doesn't apply, use this section to convey your experience in achieving the learning objectives you proposed. In addition, you may choose to cite external data that supports your approach or concept.
The award application section of Evaluation Approach would fit here.
Conclusions
In developing this section, ask yourself: What do the "results" demonstrate on a larger scale? What are the most important conclusions to convey? What should the viewer understand about the effectiveness of the approach?
Conclusions tend to be broad-based statements that respond to the problem or the need you previously defined. This section is typically brief, but should present the most important, specific information you want viewers to hold onto.
The award application section of Results fits here.
About Your Company
While the posters should be non-promotional in nature, LTEN recognizes that this is a great opportunity to inform viewers about your company and service offerings. Poster presenters are welcome to include a brief "boilerplate" paragraph about their company at the end of the poster, along with a website address and contact information.
What Size and Format Should My Poster Be?
Posters should be no larger than 1546 pixels wide by 2000 pixels high, JPEG, PDF or PNG files, and no larger than 1MB
Place the title in large‐sized type at the top of the Poster, including the award category you applied for.
List the title and all contributors/authors under the heading.
Use a font size that can be read on a computer screen.
Use charts, drawings, and illustrations similar to those you would use in a PowerPoint presentation.
Keep captions brief and content self-explanatory.
Use shorter sentences and paragraphs as much as possible, since with larger fonts even short paragraphs will appear long.
Use sub-heads to break up the flow and use bulleted or numbered lists.
Where Will My Poster Be Displayed?
All posters will be available to LTEN Connect attendees in the Poster Presentations section of the online platform, from June 9-11 as well as up to a year from the date of the event in the virtual platform.
Afterward, we'll share posters with LTEN members and the life sciences training community as a booklet via email and as part of the special LTEN Awards issue of LTEN Focus On Training magazine. See 2019's posters booklet.
Who Can Participate in the Poster Presentations?
All award applicants are invited to submit their posters regardless of being named finalists.
Is There a Cost to Share My Poster?
There is no cost associated with displaying or sharing your poster.
How Can I Upload My Poster?
Use this link to submit your Poster and supporting materials. See the image to the right to see what the Poster will look like once uploaded.